Lukullus fina naravna hrana zajec & divjačina z rjavim rižem, jabolki in lanenim oljem: za prehrano psa, ki je blizu naravni prehrani, iz skrbno izbranih sestavin. Preverjena kvaliteta v novem izgledu
Dobrodošla novost: preverjene Lukullus recepture se predstavljajo v svežem dizajnu!
Opozorilo: v prehodnem obdobju lahko prejmete naročilo v starem ali novem izgledu.

Lukullus popolna hrana za pse temelji na posebej bogati recepturi. Skrbno izbrana kombinacija mesnih proteinov, rastlinskih sestavin in dragocenih olj zagotavlja, da vaš pes dobi vse hranilne snovi, ki jih potrebuje - popolnoma brez kemičnih dodatkov. Narava ponuja vse, kar vaš pes potrebuje.
Vse sestavine so sveže in skrbno predelane. To ohranja prvotni in naravni okus mesa in zelenjave, in ščiti hranilno vrednost vseh sestavin.
Polnovredna, zdrava in okusna pasja hrana Lukullus oskrbuje vašega sladokusca z vsem, kar potrebuje. Lukullus zaupa moči narave.
Lukullus fina naravna hrana je drugačna in očara z edinstveno kompozicijo sestavin:
Preko 65 % delež mesa tvori osnovo ustrezne prehrane za psa. Uporabljeno meso in drobovina so podvrženi strogim nadzorom kakovosti in zagotavljajo visoko raven sprejemanja
Dragoceni ogljikovi hidrati ali vlaknine podpirajo presnovo
Sadje in zelenjava dajejo meniju posebej svež okus in zagotavljajo naravne vitamine
Izpopolnjena z različnimi olji, skrbi hrana za svetlečo dlako in zdravo kožo, saj so olja naravno bogata z Omega-3- in Omega-6-maščobnimi kislinami
Pripravljena brez kemičnih dodatkov in konzervansov
Z veliko ljubezni pripravljena v Nemčiji
Ljubeče sestavljena kompozicija zajec & divjačina z rjavim rižem, jabolki in lanenim oljem je zaznamovana predvsem z dragocenim deležem divjačine. Divjačina daje najboljše meso, saj raste naravno in svobodno in se prehranjuje iz narave. Pusta divjačina in nežen zajec je posebej dobro prebavljiva kombinacija in oskrbuje vašega psa z visoko kakovostnimi beljakovinami. Jabolko daje recepturi dodatne vitamine in potrebno svežino, rjavi riž skrbi za zadostne vlaknine. Laneno olje z visokim deležem Omega-3-maščobnih kislin zaokrožuje to posebno recepturo in skrbi za svetlečo dlako in zdravo kožo.
Lukullus zajec & divjačina ne vsebuje glutena!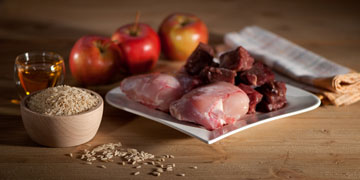 Za naravno raznolikost skrbijo naslednje sorte:
Perutnina & jagnjetina s krompirjem, regratom in oljem grozdnih pečk
Divji zajec & puran s hruško, ovsenimi kosmiči in oljem črne kumine
Puranja srca & gos z ječmenom, porom in oljem šentjanževke
Govedina & puran s krompirjem, peteršiljem in sončničnim oljem
Ste že preizkusili Lukullus Saison-sorte? Za naravno in letnemu času primerno raznolikost v pasji skledi.